Lan Bae Restaurant Jomtien
Western and Thai Food situated in the heart of Jomtien. Lan Bae restaurant is located only minutes away from the beach. Decorated similar to what you would imagine an idyllic restaurant would look like on Ko Samui. The food is well prepared and pleasantly served. Both Thai and Western food of good quality and well priced very well.
My Favorite dish
Favorite Dish My favorite dish is Chicken Cashew Nut and Chicken Fried Rice.
Adverts
Lam Bae Location
This is a map to help you find Lam Bae restaurant.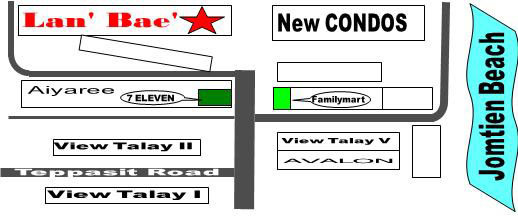 Lan Bae Photo-Picture Gallery
Photo Gallery of Lan Bae restaurant Jomtien. Click on an image to view photo gallery