Royal Park Apartments
Welcome to Live in Pattaya, this web site has been set out to help give you all the information you will require to visit Pattaya and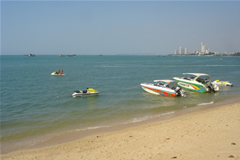 Jomtien for a two week holiday, three month holiday to moving here and living here full time.
The site includes photo gallery's of the entertainment areas of Pattaya's and Jomtien's night life, including the famous "Walking Street".
Thailand is a great place to visit and live, coming from Europe, the Thailand experience is one we are glad to have enjoyed and been a part of. The culture difference between east and west is huge, It is important to understand the main differences between the cultures to ensure happier living and visiting Thailand.
Though Pattaya was mainly a Male holiday resort, over the last few years Pattaya has grown up. The rate of chang in Pattaya is incredible and a real achievement for the Thai people. Pattaya has 3 Movie cinemas, Water Park, Zoos, Islands, Shopping, All the main fast food restaurants and much more. In fact people that haven't visited Pattaya for a number of years would be forgiven for not recognizing the City.
The information within this site is based on our experiences, there for possible errors, out dated info or misunderstanding could be within the information we have provided on this site. Please use this site for fun information, any errors you find on the site, we would be happy if you could email to us so we can provide accurate living information for Pattaya and Jomtien area.